Shirk Named KU Employee of the Month for July 2021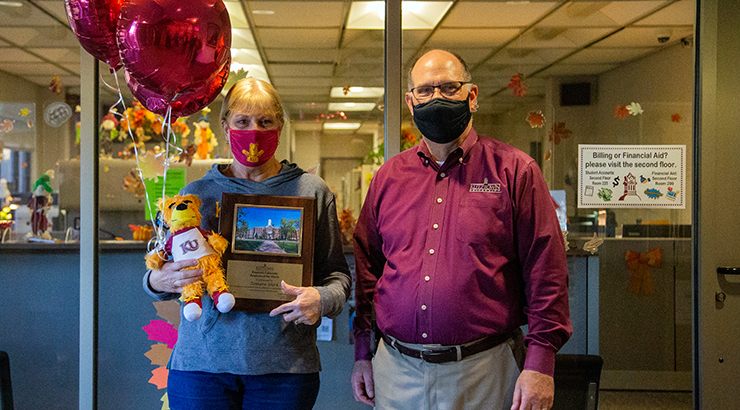 KUTZTOWN, Pa. – Congratulations to Tamara Shirk, clerk typist 2, Registrar's Office, on being named Kutztown University Employee of the Month for July 2021.
Shirk's nomination from Andrea Buno, secretary, English, and Mary Jane Bononno, management technician, Social Work, reads:
Buno: "Tami is the kind of person that I hope will be on the other side of the Registrar's desk when my son has questions or concerns. She is always able to put herself in the students' shoes to actually relate to the problem and help the student the best way she can.
Tami has helped me understand the graduate process, forms and where to find all the information on a number of occasions. No matter how busy she is, she never sounds rushed or hurries me off the phone until she is sure I have all my questions answered. She goes above and beyond by following up via email with me or going right to her supervisor to get concerns resolved.
She has always demonstrated professionalism in every aspect of her work. She is thorough, precise, hard-working and is a true asset to Kutztown University."
Bononno: "Tami handles so much in the Registrar's Office and she does it with integrity, grace and precision. When it is time for internship forms, Praxis forms, individualized instruction forms, etc., she processes them quickly and still finds the time to answer questions from staff in a quick and competent manner. She supports the Doctor of Social Work program by setting up student registration shells, processing paperwork and assuring that grades are forwarded to partner schools in a timely manner. At times, her work seems to be overflowing, yet she gets it done and still finds the time to smile.
She helps Kutztown University achieve its goals of creating a caring campus community and promoting academic excellence. For this reason and many more, she is deserving of the Employee of the Month Award."
Nominations are collected from students, faculty and staff, and the Employee of the Month is selected by the Human Resources Advisory Council. A winner will be selected each month, and out of the 12 monthly winners one will be selected as Employee of the Year. The Employee of the Month will receive a plaque, reserved parking and a $100 monetary gift sponsored by President Hawkinson.
For more information on the award or to nominate someone, please visit the KU human resources website.