Fabulous Equinox Orchestra takes the stage at KU Presents! Oct. 21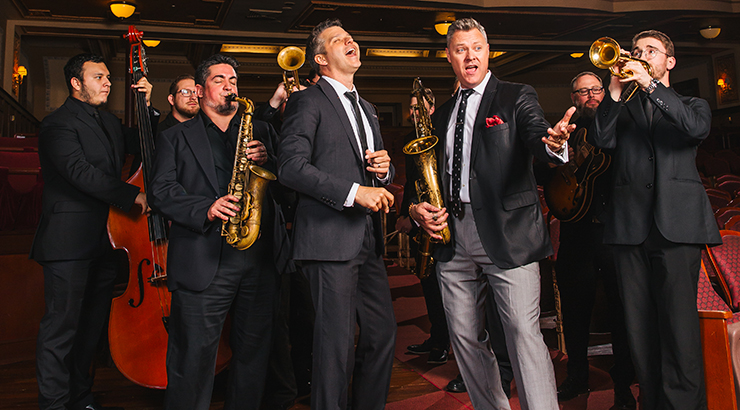 KUTZTOWN, Pa. – Across America and around the world, audiences have fallen in love with Jeremy Davis, Clay Johnson and the Fabulous Equinox Orchestra. These two sophisticated Southern gentlemen bring a high-energy show featuring the greatest songs, the best original arrangements and phenomenal musicianship. The Fabulous Equinox Orchestra takes the stage at Kutztown University 7:30 p.m., Thursday, Oct. 21, at Schaeffer Auditorium.
Tickets are available at www.KutztownPresents.org or by calling the KU Presents! Box Office 11 a.m. to 4 p.m., Tuesday through Friday, at 610-683-4092. Tickets are $36; $31 for students and seniors.
Bringing their rich camaraderie and charm to the stage and inspired by the style and swagger of legendary entertainers like Frank and Dean and Sammy, Davis and Johnson are making their own revisions to the Great American songbook. This recipe for 100% audience approval includes the favorite melodies from recent history: a dash of Motown, a shot of country, some folk and rock sprinkled on top – and the stories behind them – serving up a musical banquet that feeds every soul.
Established to be the center of cultural life at Kutztown University, KU Presents! serves the campus and community by bringing world-class live arts that entertain, educate and enrich. Learn more at www.KutztownPresents.org.