KU Presents! Returns for 2021-2022 with "FACE to Face"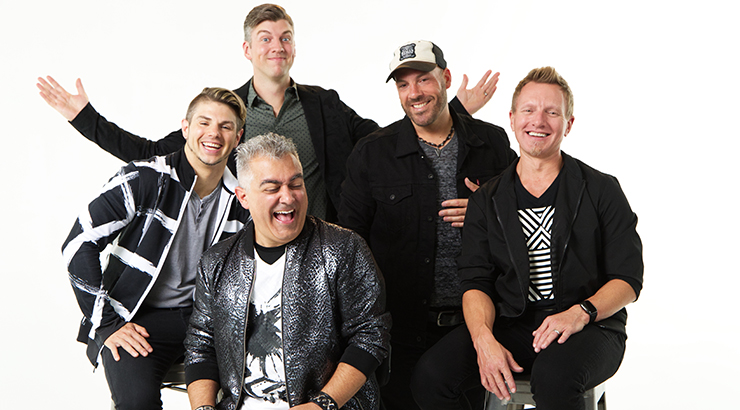 KU Presents! at Kutztown University's Schaeffer Auditorium will feature six performances for the 2021-2022 season, including familiar names and up-and-coming sensations. Established to be the center of cultural life at Kutztown University, KU Presents! serves the campus and community by bringing world-class live arts that can entertain, educate and enrich.
The season opens with A Capella pop and rock group FACE Vocal Band Wednesday, Sept. 22. A hit on NBC's "The Sing-Off," they have thrilled audiences around the globe. The big band brass sounds of The Fabulous Equinox Orchestra will entertain Thursday, Oct. 21, with their infectious renditions of the classic American Song Book as well as jazzy retakes on contemporary hit tunes. The KU Presents! partnership with The Center for Mallet Percussion Studies continues with another installment of Celebrate Marimba! Sunday, Nov. 7.
Backed by Jazz at Lincoln Center's all-female jazz band and featuring three dynamic vocalists, Bessie, Billie, & Nina – Pioneering Women of Jazz tells the stories of Bessie Smith, Billie Holiday and Nina Simone who used their talents to combat racial prejudice, sexism and poverty. This performance Wednesday, Feb. 16, is in partnership with Berks Jazz Fest. Things heat up Tuesday, March 29, with a fiery evening of music and dance from southern Spain with Tablao Flamenco. The season concludes Wednesday, April 20, with the Pinchas Zuckerman Trio for an unforgettable evening of chamber music. Internationally acclaimed violinist/violist Pinchas Zukerman will also be presenting his solo-orchestral repertoire with the Reading Symphony Orchestra Nov. 13.
As part of a collaboration with Reading Symphony Orchestra, Jewish Federation of Reading, Alvernia University and Goggleworks, KU Presents! will present a special, free lecture-demonstration performance Violins of Hope Monday, Nov. 8. This collection of violins, violas and cellos all belonging to Jews before and during World War II have been recovered and restored to honor those to whom they once belonged by keeping the music in them alive for all time.
For more details on the 2021-2022 season, including ticket prices, visit www.kutztownpresents.org or contact 610-683-4092.